Covid-19 Updates
Friday, May 15th
Safety guidelines for our gathering together again THIS Sunday, May 17:

Entrance & Station 180:
– as you enter the coffee shop, weather permitting, we will have the doors open for you. If the weather doesn't allow for that, a greeter will be at the door to open it.
– Coffee and individually contained breakfast foods will be offered, but served at the kitchen counter in Station 180 by a server.

Worship
– Large Sunday morning gathering only
– There will be no children's classes or nursery
– Families please sit together in a row.
– Rows will be spaced out for more distancing
– Invitation to the altar: at Freedom, we believe it is important to allow for a time of response to God's Word. More information about the invitation will be shared Sunday morning
– Offerings: 3 ways to give: continue to give online, utilize the mounted drop boxes as you enter the sanctuary, or place your offering in the baskets on the altar before or after the service.
– Exit doors will be opened for you when we dismiss

We are working hard to sanitize our facilities to ensure a safe and healthy worship environment!

In light of our efforts, to help, we suggest:
– if you are vulnerable, uncomfortable, or symptomatic, please stay at home and join us online via Facebook at 10:30am
– Masks: masks are suggested, but use is up to the individual's discretion
– Wash your hands
– Greet, smile, and wave! Please try to refrain from contact.
– Use a common sense approach

Freedom Family, we love you and are SO EXCITED to see you and worship Jesus with you Sunday, May 17 at 10:30am!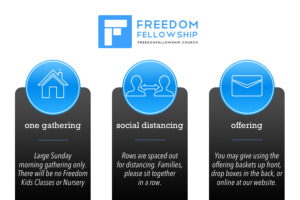 Friday, March 27th
Church family, as it relates to our worship service on March 29, 2020, we are continuing with our online-only service.
Friday, March 20th
After considering the guidelines released by government agencies and seeking the Lord's will through much prayer, as leaders of Freedom, we have felt it best to move our service online for March 22, 2020. We are choosing faith over fear by trusting God and His Word. There are 2 biblical reasons for our decision. 1) your health is very important to us. Philippians 2 says to consider other people before ourselves, and this is how we are going to do that, especially for those most vulnerable. 2) we want to support our local, state and national leaders. Romans 13 commands us to do that. And given they are not asking us to contradict the Word of God, we want to follow suit.
Please join us at 10:30 Sunday morning on Freedom Fellowship's Facebook Livestream for worship, the Word, and important announcements as we move forward together. Afterwards the video will be posted on our new YouTube page (https://www.youtube.com/channel/UCZRrTWa6i6_H3eclFJjKDyA/featured?disable_polymer=1 ). This season is an opportunity to be the Church out in the world, and we want to embrace what God is doing right now.
Monday, March 16th
As we continue to monitor the Coronavirus situation, as of now we feel it is wisest and best to suspend all midweek activities this week, except for Elisha's Food Pantry on Tuesday night. We see Elisha's Pantry as an opportunity to love our neighbor and provide for people who may not have the resources they need during this time. As we continue to monitor this situation we will provide you with updates as needed. In the meantime continue to use standard health practices and precautions!
Let's use this time to grow in patiently trusting the Lord's power and peace.